Enterprise fire caught on video
Monday, May 21, 2007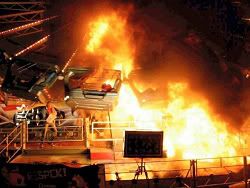 Some quite remarkable footage from a fair in Estonia has surfaced following a fire on Friday which injured 37 people who suffered from smoke inhalation and burns.
The cause of the fire isn't yet known, but the footage shows in detail a large fire developing at the bottom of the supporting arm with gondolas on the ride passing repeatedly through the flames. Photos taken after the accident show what a remarkable escape people had from the fire.
With the availability of cameras and phones that can record video, it has become easier than ever to capture incidents, and publish them online. News organisations are also keen to give airtime to videos like this. Although poor quality, footage like this is priceless - media organisations often do not pay for this footage, and it often shows the incidents as they happen as opposed to having to reactively report on them after they have happened.
Police are still investigating the cause of the fire. Arson has apparently not been ruled out, although arson seems unlikely on a fair ride that is open and running. It's interesting that despite the fire, the ride seems to run quite happily - something that undoubtedly meant that 37 people had a lucky escape.
The footage below shows in quite graphic detail the fire in Estonia. Please watch it with discretion.
Labels: Fairs
Lukewarm for Inferno
Sunday, May 13, 2007
I'm not sure what to make of Intamin's Ball coaster. Linnanmaki has now Kirnu
, the first of its kind. It looks good for a small amusement park like Linnanmaki, but I'm not so sure it will work at parks like Terra Mitica.
Track has now arrived at Terra Mitica for the second Ball coaster, Inferno, which will open later this year along with Infinito, an Intamin observation tower. Now that fortunes have taken a turn for the better at Terra Mitica it is good to see them spending money on new rides, but I think having seen the video of Kirnu, it is yet another expensive waste of money.
Terra Mitica is a lovely park. It has amazing theming, good water rides and a few decent dark rides too. But one thing it has always lacked is a good coaster.
Short coaster lengths
Stealth
1312ft
Oblivion
1222ft
Vekoma Boomerang
935ft
Turbine
722ft
Vekoma Roller Skater
679ft
Inferno
465ft
Source: RCDB
Magnus Colossus is the spectacular wooden coaster built into the rock wall backdrop at the back of the park. It has its days, but more often than not it is rough and unforgiving. Tizona didn't make many amends in 2003 when it opened. Artists' impressions showed a B&M Inverter, yet any optimism was misplaced when it opened as a Vekoma SLC.
Inferno I don't think will make many amends. The concept is a great one, but at just 465ft long, even assuming it is the best ride in the world, it will leave you wanting more. But it looks like it will be a long way off being the best ride in the world, anyway.
The video of Kirnu shows a curving chainlift as opposed to the expected electromagnetic launch, while annoyingly the car seems to stay upright until a small spin on the final 'loop' into the magnetic brakes at the end. It looks incredibly boring.
But it is a concept that has potential. Add some height, add a few cars to make a train, and add some length and it could be a great ride. In my mind I'm picturing an 'out and back' ride with steep bunnyhops and drops like the prototype, just with a little substance to it.
Until the Ball coaster has that substance to it, though, I'm not sure it is suited for parks like Terra Mitica.
Labels: Intamin, TerraMitica
Hollenblitz opens
Monday, April 23, 2007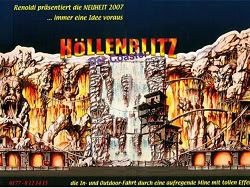 Hollenblitz has opened in Stuttgart. Despite my reservations, photos on onride.de show that it looks outstanding come night fall with the rocky facade lit up with a spectacular multi-coloured lightshow.
The ride now includes a reprofiled drop that goes all the way down to ground level instead of swooping across the top of the payboxes. To accomodate this, the payboxes are now either side of the building instead of the dead centre.
There are other improvements too. All four of the outer walls are now painted meaning the rather unflattering rear view has been given a facelift. The waterfall, too, cascades down with gusto onto the track below until such a time the train appears by which time it slows to douse the train with only a residual spray.
If you miss Star World's robot (like I do), it's worth knowing that he's up for sale. It's not known whether the price includes the two lorries that transported him.
Hollenblitz will be appearing at the following fairs on the following dates:
Stuttgart: 21 April - 13 May Schweinfurt: 8 June - 18 June Darmstadt: 28 June - 2 July Dusseldorf: 14 July - 22 July Duren: 28 July - 5 August Straubing: 10 August - 20 August Nuremberg: 24 August - 9 September Munich: 22 September - 7 October Bremen: 9 September - 4 November Hamburg: 9 November - 9 December (unconfirmed)
Labels: Fairs
Furious Bacus yet to be furious
Sunday, April 22, 2007
Lots of nothing in particular has happened on Furious Bacus. Originally rumoured to be Furious Baco, then Furius Baco, Furious Bacus as it has now been announced as was apparently due to test for the first time a week ago.
Then this date was pushed back to Monday.
But at the time of writing, it has still yet to test. Reassuringly, the electrical systems and brakes have been tested, but no train has yet gone around the circuit.
Intamin always insist on a pullthrough for their coasters where the first two (and last, if it is a different shape) cars are slowly pulled through the circuit with what can be best described as a cardboard cutout attached to test clearance. To our knowledge this hasn't happened, although FB is only a short coaster and mainly ground hugging, so it is possible this has happened out of sight.
Theming wise, some more details: the 30s preshow will happen while you are onboard the train. You will load, and then the train will move forward into the preshow room. There will also apparently be themed elements around the lake turn, such as archways to protect people on the pathway below from falling objects.
There's no clues yet as to where the ride entrance will be, but the exit will be through a shop in Mediterrania.
No revised date has been given for test runs, and opening is still scheduled for May. Despite this, there is still a lot of work to be done. Although a lot of progress is made every day, the station area is still a building site. Enthusiasts are suggesting that a more realistic opening date would be June.
Commenting enabled for this post
Labels: Intamin, PortAventura
Miami madness
Sunday, April 08, 2007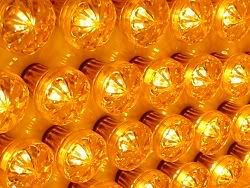 Happy Easter everyone.
Those crazy people at Mondial have been showing off their new Heartbreaker in Germany called Phoenix
which appears to be the Dutch manufacturer's answer to the infestation of Miami rides in the UK.
Like the Miami, it packs onto just one trailer. This should hopefully mean it will be a popular ride with weight-conscious British showmen. As costs of travelling rides climb year on year, showmen both in Europe and the UK are looking for new and innovative rides that are easy to transport and build.
This has always been KMG's selling point, but Mondial have also been trying to capitalise lately on small but unique rides. Lately, we've seen the ludicrously popular Capriolo, and more recently, Diablo
.
Heartbreaker, like Miami, makes high-speed sideways loops much like a Magic Carpet ride with riders sat in long rows either side of a central arm. Unlike Miami, Heartbreaker's two eight-seater gondolas are free to roll over, much like they do on a Top Scan.
I did wonder how effective this feature would be, but thanks to counterweights on the gondolas and the incline of the supporting arm, the gondolas roll over quite sensationally.
How do I know? Well, a couple of videos (offride and onride) have been posted on Kermis Movies.
Hopefully there is some god and showmen will remember the popularity of other British Mondial rides such as 2Xtreme when considering replacing their haggard old Miamis.