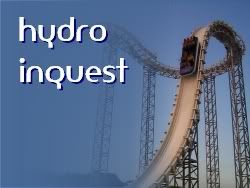 Might as well get the gloomy news out of the way today. The BBC reports that no physical check of Hayley Williams' t-bar restraint on Hydro was made prior to the ride being dispatached.
Hayley Williams fell nearly 100ft from the ride in April 2004 and was pronounced dead at Withybush Hospital, Haverfordwest.
Now, there are several things that trouble me. Problem 1 - Gareth Etches, 24, was ride supervisor on Hydro on the day of the accident. Reportedly, this was Etches' first day on Hydro, and he had received 20 minutes supervised training on the ride.
20 minutes seems a miniscule amount of time before being handed the responsibility of supervising the ride.
Problem 2 - The ride manual says that physical checks should be made to ensure both the seatbelt and lapbar were securely fastened. But Etches said that "throughout the training we were just told to ensure the belts were done up and the bars were down".
He continued, saying that this was always done visually (by looking), but not always physically (by tugging the seatbelt and pushing down on the bar).
If accurate, his account is beyond belief.
Hydro at the time of the accident was almost identical to a similar ride at Knott's Berry Farm, Perilous Plunge, where an oversized rider was also thrown to her death. It also had near-identical restraints to other Intamin rides which had a history of ejecting riders. Yet, apparently, physical checks weren't always made.
When Coaster Kingdom rode Hydro in 2002, checks were thorough, with seatbelts fastened and checked before lapbars were lowered and checked. Clearly, if true, standards slipped.
Hayley Williams' sister said that her bar wasn't checked by Etches' assistant, and a rider in the back row behind Williams, Miles Mitchell, said that he wasn't even aware the ride had seatbelts and backed up Hayley Williams' sister's claims that restraints weren't checked.
The hearing continues tomorrow.
Commenting enabled for this post