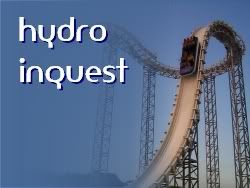 Oakwood has been cleared from the charge of unlawful death at the conclusion of the inquest into the death of Hayley Williams who fell from Hydro in April 2004.
The preceding coroner over the enquiry told the jury that they should only consider the charge of accidental death, or a narrative verdict which aportions no blame and just outlines the causes of death.
The jury chose the narrative verdict, to which Hayley Williams' family angrily reponded. Hayley's mother, Beverly Williams, left court in tears, saying of the coroner "What the hell is wrong with him? I don't believe it".
She continued "It is not an accidental death, and it is not a narrative verdict - it is an unlawful killing".
The court has heard how Hayley Williams' restraint was not lowered, and also that it was unlikely her seatbelt was fastened. The coronor said that the force of the drop would eject riders who were not wearing their restraints.
The Health and Safety Executive will use the findings to decide whether to charge Oakwood over the death. In light of the lesser charge of a narrative verdict, it is unlikely that Oakwood will be charged with manslaughter.
The inquest has now closed. The Crown Prosecution Service has said that it will not charge Oakwood in relation to the accident.
Source: icWales
Commenting enabled for this post