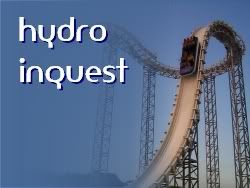 Today, the hearing at Haverfordwest Coroner's Court continued, hearing evidence from Rebecca Chittleburgh, 21, a former ride assistant on the Intamin River Plunge ride at Oakwood.
She told the court how she was distracted by something outside the station, and when she turned back to the platform, the boat had been dispatched without her acknowledging that it was safe to do so by putting her thumb up.
Her training told her that every rider should be checked by tugging on the lap belt, and pushing down on the t-bar before confirming with the operator that it was safe to dispatch.
An expert also said today that aspects of the restraints were 'unacceptable'.
Mechanical engineer Roger Jones tested all restraints and seatbelts on the single boat but was still able to get out of the seat unaided even after the lapbar was pulled down.
But he did say that a passenger would be secure if both the seatbelt and lapbar were used. However, Miles Mitchell, who gave evidence yesterday, said that his restraint was not checked and he rode without a seatbelt as he didn't realise the boat had them.
This follows a catalogue of issues highlighted in the hearing. CCTV footage appears to show that Hayley Williams' bar was not lowered, a member of staff who had not previously worked on the ride was given 20 minutes training before being left to supervise, and his training apparently contradicted the manual in that he was not instructed that physical checks were needed.
The Duty Manager at the time of the accident, Simon Phillips, explained how he was alerted to the accident. "My intial thought was that someone jumped in [to the water]" he said. A park-wide request for medical help was made to which a triage nurse arrived.
The hearing continues tomorrow.
Commenting enabled for this post