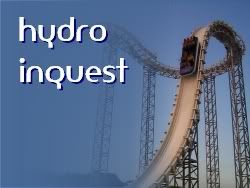 Today, the inquest into the death of Hayley Williams concluded by saying that there was no evidence of gross negligance by anyone involved.
This followed a week where it was revealed Hayley Williams rode Hydro without a lapbar, that it was unlikely she was wearing a seatbelt, that another rider rode without a seatbelt, that the supervisor received only 20-minutes training, that the attendant didn't check restraints as she was distracted, and that the supervisor denied that he had been told physical checks were obligatory.
The hearing also heard that the lapbar alone was 'inadequete', that it was possible seatbelts could be undone without the knowledge of staff, and that the forces on Hydro would inevitably eject improperly restrained riders - as, sadly, it did.
All the clues suggested that Oakwood would carry the burdon of resposibility for the death of Hayley Williams. But, surprisingly, they were completely cleared.
The case of Hayley Williams was a strange one.
There was no evidence that she deliberately rode without a lapbar, and everything suggested that to do so was against the grain of her personality - a sunday-school teacher and singer with aspirations to appear in the West End, it seemed out of character for her to deliberately ride unrestrained.
But for whatever reason, she did. I strongly believe that on a ride with such a dubious history as Intamin's River Plunge, that Oakwood had a duty of care towards Hayley Williams, and that every restraint should be checked.
But, maybe the result of the inquest acknowledges that the ultimate responsibility is with the rider.
The accident was an utter tragedy. Paddy McNamara was reportedly emotional in court, but was quick to sympathise with the Williams family saying their prediciment was far worse than that of Oakwood.
Outside court today, he welcomed the verdict, saying that if the ride was operated in the way that they trained staff that it was completely safe. He re-itterated the point that with 6-million visitors, there had been 120-million rides safely completed at Oakwood since they opened.
With accidents on so many other Intamin rides with similar restraints, it is nothing short of remarkable that the staff on Hydro that day allowed a boat to be dispatched unchecked, but the rider too must bear some responsibility.
In today's litigus world, it is a surprise that onus wasn't placed on the park, but maybe it is fair that blame is shared, especially if Oakwood's standards of training are as exacting as the court heard earlier in the week.
While it is fair to argue that Oakwood should have checked Hayley Williams' restraint, maybe it's also fair to argue that she should have pulled down her restraint.
Why she didn't we'll never know.
Commenting enabled for this post